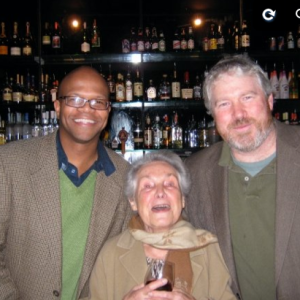 The new face of the youth-fueled Occupy Wall Street movement is none other than an 84-year-old woman who's spent her life crusading for liberal causes. The image of pepper-sprayed Doril Rainey has quickly gone viral across Twitter, Facebook and Tumblr.
As Rainey's fellow travelers in the Occupy movement hunt for more details about her, here's what we know so far.
The clash with police  As photos from the clash between protesters and police from last night show, the pepper spray was being deployed fairly indiscriminately. When asked about the incident, which also involved the spraying of a pregnant woman and priest, Seattle police spokesman Jeff Kapel said pepper spray is "not age specific. No more dangerous to someone who is 10 or someone who is 80," reports the Associated Press. "We probably wouldn't be using pepper spray if that was the case."
One point worth noting is that her face isn't literally dripping with pepper spray. As The Guardian notes, "The image looks dramatic but it should be noted that the fluid dripping from Rainey's face is probably a solution applied by medics to calm the effects of the pepper spray."
Rainey was last seen being assisted by protesters following the incident. She emailed Dominic Holden at The Stranger alt-weekly describing how it happened.
Well free speech does have its limits as I found out as the cops shoved their bicycles into the crowd and simultaneously pepper sprayed the so captured protesters. If it had not been for my Hero (Iraq Vet Caleb) I would have been down on the ground and trampled. This is what democracy looks like. It certainly left an impression on the people who rode the No. 1 bus home with me.
Public roles Broadly, Rainey has been active in politics and Seattle public life since the 1950s. A former Sunday schoolteacher, she ran for a seat on the King County Council in the 1970s and came within 400 some votes to get the Republican nomination. During the same period, she was a school board member in Issaquah, a nearby city. Last year, there was talk she would run for mayor but eventually she dismissed the idea saying, "I am old and should learn to be old, stay home, watch TV and sit still." But that doesn't mean she doesn't have a good rapport with the current mayor. On Twitter, one of her fellow Seattle supporters Norman Sigler posted an amicable photo of Rainey, himself and Seattle mayor Mike McGinn:
Her activism Born in Austria, Rainey came to the U.S. in 1956 following her work as a technical translator in the U.S. Army in Europe, she explained last year on the Talking Stick, a weekly show on public-access television. Describing why she left Austria she said "it's a great country but it's a really bureaucratic country." She is an activist across a range of issues including non-violence in foreign affairs, feminism and local transportation. In the interview, a sort of celebration of her life's work, she voiced disapproval for the "car takeover" in Seattle and how parking lots are detrimental to the general welfare of the city, among other things:
The tech-savvy activist also has her own blog called Old Lady in Combat Boots where she describes herself as an "all-around troublemaker." "I believe change begins in the streets, and all citizens have the power to make a difference," she writes in the blog's about section. "Together we can make our voices heard in the ivory towers of government, so lace up your combat boots, log in and turn on!" She hasn't quite kept the blog running: the last post is from 2009. Past posts include articles on feminism and tunnel projects. Other activities include being a member of the Seattle chapter of Women in the Black. According to its website, it's an international network of women who "stand in silent vigil, calling for peace, justice and non-violent solutions to conflict." The Toronto Star exchanged e-mails with Mike McCormick, the producer of the Talking Stick, who said Rainey is "a role model among activists that walks the walk." He added, "She's passionate, thoughtful, well informed, dogged, fearless, in-your-face but not in an intimidating way, warm, caring, humorous, doesn't pull her punches kinda activist you want right next to you when the s–t hits the fan."
Posted In: Dori's Writings & Opinions, News About Dorli