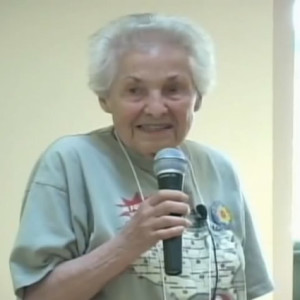 Dorli Rainey speaks at Ground Zero Center for Non-Violence in Poulsbo Washington on August 4, 2012 for their event "Inconvenient Truth"
Ground Zero offers the opportunity to explore the meaning and practice of nonviolence from a perspective of deep spiritual reflection. Providing a means for witnessing to and resisting all nuclear weapons.
We resist Trident, and work for the abolition of all nuclear weapons. Ground Zero Center for Nonviolent Action is located at: 16159 Clear Creek Road NW Poulsbo, WA 98370
James W. "Jim" Douglass is an American author, activist, and Christian theologian born in 1937. He is a graduate of Santa Clara University. He and his wife, Shelley Douglass, founded the Ground Zero Center for Nonviolent Action in Poulsbo, Washington, and Mary's House, a Catholic Worker house in Birmingham, Alabama. In 1997 the Douglasses received the Pacem in Terris Award.
Posted In: Dori's Writings & Opinions, News About Dorli