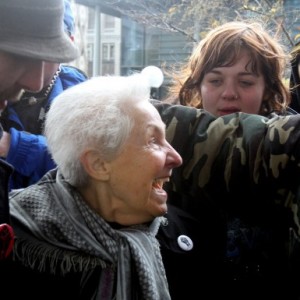 About 30 Occupy Seattle demonstrators, included an 84-year-old woman whose pepper-sprayed face made international news this week, protested Friday afternoon against what they called police violence.
The demonstrators marched from their camp at Seattle Central Community College to the downtown police department headquarters to "demand that Seattle police be held accountable for violence against Occupy Seattle activists," according to a news release before the march.
Once they arrived, the protesters were rallied by Dorli Rainey, a Seattle activist who earned an apology from Mayor Mike McGinn and then became a symbol of the fledgling Occupy Wall Street movement after a photo of her pepper-sprayed face went viral.
"This has been a wonderful week," Rainey told the group. "I think we have accomplished somethng that we have been trying to get, and that is attention."
Rainey and other protesters — including prominent Seattle clergyman Rich Lang — were pepper-sprayed Tuesday night because they blocked a downtown street and ignored orders to disperse, police said.
"You only get real attention when you block a few streets," Rainey said later.
Protesters said they are discussing filing a complaint of police misconduct.
The next day, McGinn released a statement expressing disappointment with the incident.
"To those engaged in peaceful protest, I am sorry that you were pepper sprayed," he said. "I also called in Seattle Police Chief John Diaz and the command staff to review the actions of last night. They agreed that this was not their preferred outcome."
Posted In: News About Dorli